After packing Holocene Portland for 6 months straight, the Jai Ho! Dance Party moves to Refuge Pdx to create more dancing room for the 500+ dancers every month! Huge wooden dance floor, big stage & a kickass custom made sound system await us at Refuge.
Starting Friday Feb 22 you can kick start your weekend with Jai Ho! monthly on 4th Fridays, we believe this will make for a long & extra fun weekend of dancing fun!
The theme this month is "Bollywood Disco," so assemble your finest bedazzled and flared garb for a costume. If you really want to shine like a movie star on the floor, get here by 10pm for a dance lesson! Oh, and it behooves you to come early anyway – the cover is $10, but just $5 if you arrive before 10pm!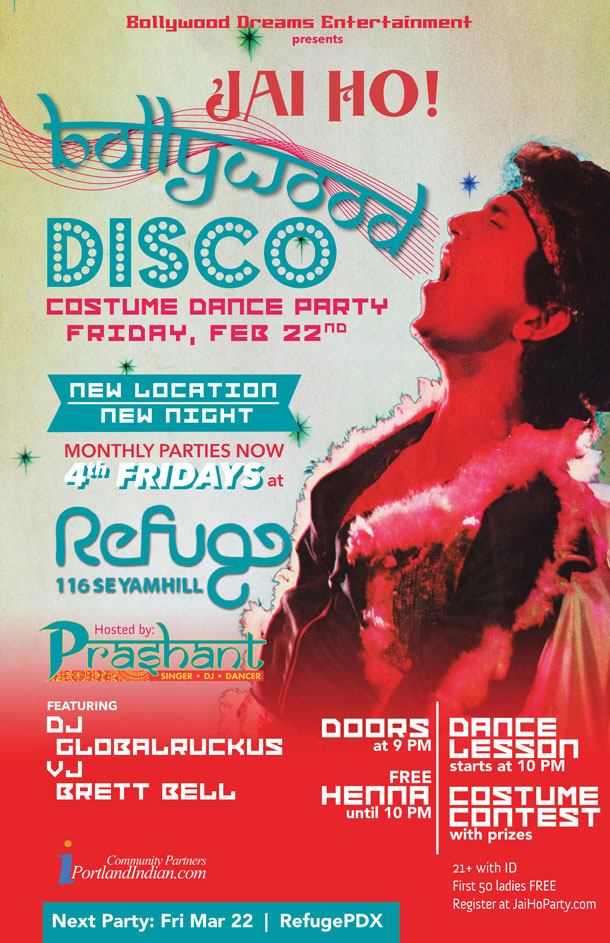 Bollywood Dreams Entertainment Presents:
★ Jai Ho! Bollywood DISCO – Costume Dance Party ★
Come dressed to impress & get your funk on!
Hosted by celebrated Bollywood Entertainer:
★ Prashant – Dancer, DJ, Singer ★
FEATURING DJs:
★ BRETT ★
Bollywood Video DJ

★ GLOBALRUCKUS ★
Transglobal Groove Maniac

FREE HENNA BY:
WHITE HEART HENNA
https://www.facebook.com/WhiteHeartHenna
First 50 ladies FREE & $5 adv. tickets online at:
http://portlanddisco2013.eventbrite.com/
_________________________________________________
Friday February 22nd

★ REFUGE PDX ★
116 SE Yamhill St, Portland OR 97214
_________________________________________________
★ Bollywood DISCO – Costume Dance Party ★
Come dressed to impress & get your funk at this RETRO dance party with a DISCO twist!
– Doors at 9 pm
– Bollywood DISCO dance lessons with Prashant at 10 pm
– Dance all night to Bollywood Disco, Bhangra & crossover music mixed in their signature style by DJs Brett, GlobalRuckus & Prashant
– 21+ w/ proper ID – Doors open 9 pm – Party late till 2:00 am!
– $5 before 10 pm, $10 after 10 pm, price subject to increase after 11 pm
_________________________________________________
★ Community Partners ★
www.PortlandIndian.com
_________________________________________________
★ Jai Ho! Dance Party ★
Teleport to the dream city, Mumbai, home to the alluring Bollywood film industry at the Jai Ho! Dance Party.
Third Saturdays in Seattle & 4th Fridays in Portland, with a new flavor every month, Jai Ho! (victory to you) is a dance party featuring authentic and crossover Indian Dance Music (Bollywood & Bhangra).
Dance lessons, dance performances and LIVE singing – make Jai Ho! an experience where anyone and everyone joins the fun and dances, regardless of age, culture or nationality.
The man behind Jai Ho! is the Dancer, DJ & Singer – Prashant, hailing from Mumbai, India, Prashant is celebrated as one of the most exuberant & energetic Bollywood entertainers in North America.
_________________________________________________
★ Bollywood Dreams Entertainment (LLC) ★
Founded to enrich NW's Musical Experience by producing authentic Indian Entertainment events!
Mumbai born President, Prashant Kakad (Cornell Alum, and former Intel Engineer) is the multi talented face of BDE. A Singer, DJ, and Dance Instructor, his mission is to enrich the U.S. musical experience by drawing and presenting the best talent, straight from India.
BDE hosts the popular Jai Ho! Dance Parties in Portland, OR & Seattle, WA!
_________________________________________________
Like Prashant : http://www.Facebook.com/dreamprashant
Like the Jai Ho! Dance Party : http://www.Facebook.com/jaihoparty
Join the Bollywood Community: https://www.facebook.com/groups/bollywoodbliss/
& follow us on Twitter: http://www.Twitter.com/DreamPrashant
Share